Is trusting the process enough to deliver project success?
Earlier this year, rhi joined parent company Wood to present a seminar focused on unlocking value through asset integration for refining and petrochemical leaders in the Middle East. rhi's managing director, David Paterson, and strategy and business development director, David Lane, took the audience through Factors for Success in Managing Capital Investment.
So what are those factors?
Projects are not a straight-line Process.
Whilst we will always require processes, systems and methods for managing projects, these do not guarantee success but are a method of gathering and managing information that will inform decision-making. More often than not, these systems work on a structured sequential method of evaluation, however, the numerous components of major investment programmes often fail to correlate with these processes.

What really would be the differentiator between a successful or an unsuccessful project?
Over the years, we have found that the most successful projects have been based on the quality of the quality of decisions made at every stage of the project. Our parent company, Wood, utilises a decision mapping tool that combines accurate data with critical thinking called Decision Vue. It offers a framework that takes a four-dimensional approach to the evaluation of projects, including cost, time, criticality of activities and access to resources. This can be used effectively in optioneering and the tools ability to correlate relevant information from diverse sources offers an effective approach to project management.
The introduction of digital technology provides an excellent platform for better interpretation of information through visualisation techniques. A digital approach to information management when combined with visualisation and effective communication of real-time data enables critical decisions to be made, reducing risk and delivering capital programmes. We see agile project delivery frameworks being adopted and clients developing closer collaborative relationships with the capital project supply chain. This move towards agile working requires a cultural shift in decision-making and transparency on commercial matters.
Many strategic factors that impact development programmes are not internal to the programmes or the organisations but external, meaning they are less controllable. For example, global or regional trends in delivery capacity for key resources. In order to address these factors long-term, strategies must be developed at a regional level to build a regional supply chain. This type of requirement does not necessarily play into the conventional tool kit of policies and procedures and requires more critical thinking.
Then there is competition for capital and rise of private equity into new areas. Looking at how products are developed, macro factors can drive the risk profile of your project up or down. With that, the introduction of different sources of capital comes various stakeholders with focus on issues such as Environmental, Social, and Corporate Governance (ESG). We are seeing more creativity around how funding is established, and partnerships are considered. This is an evolving theme inside projects and programmes.
Other factors that can impact the successful delivery of programmes include the market for products with globalisation, deglobalisation and political changes. ESG impacts the way investors are behaving with publicly owned companies and how capital is allocated. CO2 Greenhouse Gas emissions has led to clients evaluating not just scope 1 and 2, but thinking early on in projects within supply chain regarding the requirements for regulatory and voluntary commitments for net zero.
There is a shift for new considerations and the importance for getting that right at the beginning to set the project up for success. When it comes to capital programmes, the only constant is change, both technical and circumstantial. The ability to manage change is an essential part of all projects.
What's important to you and where do you start to really understand what's going right and what's going wrong?
Our team asked some of our established clients the question about what they prioritise in the management of their capital programmes. The response, was that it was crucial to have the ability to access real-time data on cost and schedule. rhi produces a lot of reporting for our clients on this subject and we are finding that access to digitalised tools allows us to get to real-time data to support the agile decision-making process. It is the experience, the team you build, as well as the tools that you deploy, that contribute to success.
Apply Real-Time Data to Monitor Your Programme and Projects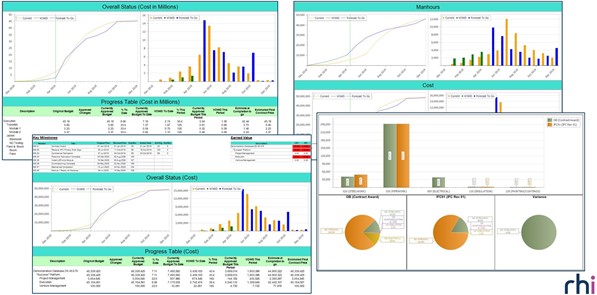 Where can rhi provide value?
rhi is able to draw on our vast experience and data from energy projects to provide insights to advise on important decisions, benchmarks to evaluate performance, metrics to develop budgets and market data to support strategy development.
Our rhiDATA repository comprises a range of global projects across upstream, mid-stream and downstream and comprises both early stage estimating and tender data together with project outturn costs. rhiDATA is underpinned by our industry leading rhiCOMS contracting system which provides a further level of granularity in terms of cost and productivity data. rhi ACCESS, a specialised toolkit, enables our clients and end users to gain access to key project performance indicators.
For further information on rhi's service offerings and relevant experience, please contact: mail@rhi-group.com
Article Authors: global managing director, David Paterson, strategy & business development director, David Lane