rhi recognises the importance of good mental health for employees, clients and the whole community.
Seven members of the rhi team, plus one four-legged friend, recently took part in Mental Health Foundation Australia's 5k Walk for Mental Health in Melbourne.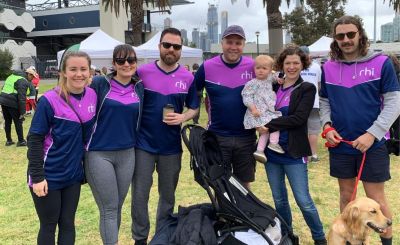 Emma Wilson, rhi account coordinator, took part in the walk and says: "We participated in this event to highlight the importance of this issue and to let people know they are not alone. Mental illness effects 1 in 5 people and everyone has their own story involving mental health and illness. I believe it is important to raise awareness and reduce stigma, especially in the workplace."
During 2019, many of rhi's managers taken part in mental health awareness training and regularly use the resources available as part of team meetings and safety moments. Five rhi employees have also undertaken the mental health champion training. These people are focal points in offices who can identify early signs and symptoms and can point colleagues to sources of assistance – the Employee Assistance Programme, occupational health, counselling, their local doctor or one of the many local health and wellbeing organisations that exist in the countries in which we operate.
David Paterson, managing director, said 'Mental health challenges affect all of us in some way at some time in our lives. We are encouraging our people to learn more about mental health and to start conversations to reduce the stigma. It is important for all of us to remember it is okay to not be okay and to check on those around us who may be struggling at work, or at home."
If you're experiencing mental health issues, there are many ways in which you can get help and support. The best place to start is your GP, who can refer you to a range of specialist support services like psychologists, psychiatrists, family therapists, rehabilitation services or community health services.